This is a short photo story about the time I wore 3 costumes on Halloween.
Saturday Mornign I ran in the Troy YMCA the Monster Madness Dash. My boss, Jen, helped me come up with this super easy to run in costume, a baseball player.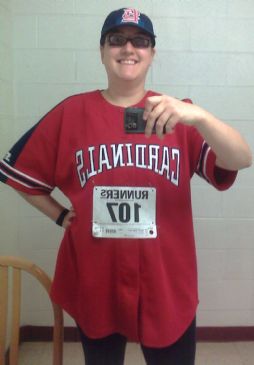 After the race, I headed home to watch the Badger Game! I was super excited for their shut-out victory against Purdue. For my second costume of the day, I was a Badger Fan. [ok- that wasn't much of a costume ;) Clearly I am a Badger Fan every.single.day. ]
After the Badger Game I got ready for the Trick-or-Treaters. I was pretty stoked about getting to be an active part of my community [one of my goals for this year.] Because my apartment door doesn't really look like a seperate home enterance, I set up a few tables outside, that just so happened to go along with my 3rd costume of the day.
I was an
Operation Beautiful
Post It Note! :) I set up a little
Operation Beautiful
table as well, to spread the word about the great cause.
Of course, after about an hour of handing out candy and telling people about Operation Beautiful, it started to rain. So I had to move the tables inside, and I stood outside with an umbrella for a bit.
Frankenstein didn't like the rain: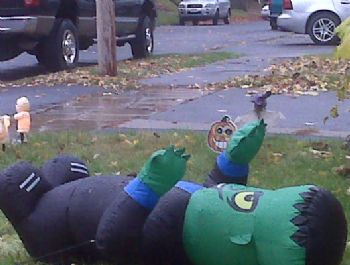 But SuperGirl did brave it :)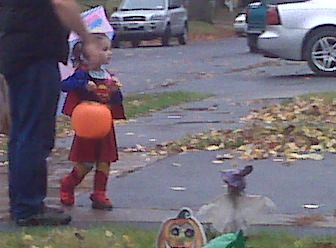 Luckily, my neighbor invited me over to her covered porch to hand out candy while staying covered. I had a good time chatting with her and seeing all the little kiddos in their costumes. Halloween is one of the few times of the year I wish I had a baby to play with. [This is were Danielle's baby is going to come in handy ;) ]
What did you do on Halloween? Did you see any extra-creative costumes?