I just need to say, quickly, before we get too deep in post: HAPPY BIRTHDAY, CARRIE :)
I wanted to put together a post of cool gift ideas I've found over the past few weeks for those of you who still haven't gotten your
Bloggie

Secret Santa
a gift. But these gifts are not just for your favorite blogger friend- they would work for a multitude of people in your life (i just KNOW it!)
For my
Bloggie
Secret Santa gift, I have been trying to keep to a few "gift giving rules" I'
ve
set.
First off, because I don't know the person I'm purchasing for very well, I made sure to spend a bit of time on her blog the last few weeks. As I'
ve
caught myself up on what my
Bloggie
friend is interested in, I'
ve
taken a few mental notes. Does your
giftee
participate in a certain activity or hobby? (reading, crafting, yoga, running, etc?) If your
giftee
posts photos of herself, does she gravitate towards a certain color palette? Does your
giftee
eat a certain specific diet? (
GF
, vegan, vegetarian, etc.)
The second thing I have been trying very hard to remember is that a Secret Santa gift is a great opportunity to give something IMPRACTICAL but still PRETTY DARN COOL. I think that Secret Santa gifting (and Christmas as a whole, really) is an opportunity to give the
giftee
something spectacular that they
wouldn
't ever purchase for themselves. Some of my most favorite gifts I'
ve
gotten over the years have been things I NEVER would have spent the money on myself but truly cherished receiving. I tend to be a bit thrifty, and a self-proclaimed bargain hunter so it's not very often I pay full price for something for my own personal use, let alone spend an extra few dollars on something extravagant. For example, it would take a lot for me to ever purchase a "gourmet" hot chocolate mix for over ten dollars for myself. But when I received one as a gift last Christmas, I treasured every sip of the warm, rich, frothy love in a mug. I want to look outside the "practical" and into the "fabulous" when purchasing a gift for my
giftee
.
The last rule I've set for myself is HAVE FUN! Christmas shopping can sometimes be a bit stressful- especially when you are trying to find the most perfect gift for everyone on your list. Add to it that you've probably never met your Secret Santa and you may very well just want to throw in your elf hat and call it a day! But I'm not letting that happen- I am trying very hard to enjoy every minute of shopping for my Secret Santa
giftee
.
Here are a few ideas I've come up with a few different people on my list;
bloggie
friends and others.
You Love Julie & Julia, Baking, and Pretty Things:
Jessie Steele Damask Apron from

Wrapables
- 29.95
This apron classes up any and every kitchen. I can imagine a few people I know wearing this classy little number and holding a tray of cupcakes, offering one to each guest.
Let's face it,
Antropologie
is THE place to find pretty little things- and this trivet does not disappoint. I keep hearing that
orange is the new pink
- this darling little piece sure adds to that
argument
.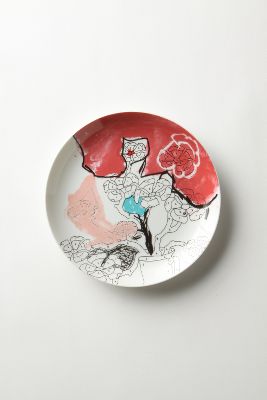 Paint by Number Dessert Plate from

Anthropologie
- $12
This plate is just one of the several design options in the Paint by Number Dessert Plate set. I would LOVE to hand these out to a trio of friends as they approach the dessert bar in my kitchen.

I Can't Stop Reading Your Blog, even when Most of Your Posts are Photos of Food:

Postcard Set by Emcee on

Etsy
- $12
I am a little bit obsessed with this post card set. You choose five designs from Emcee's postcards for your custom set- I'm loving the above along with one that reads "Reawaken Your Sense of Wonder; Let
Curiosity
Lead Your Life." 2010 Motto, much?
Photographers Necklace by

JustJaynes

on

Etsy
- $21
It seems like a bunch of
my
favorite
bloggers
have been getting new cameras to share wonderful photos on their blogs. And I know a few photographer friends who would love to add this to their key ring, charm bracelet, or jar of trinkets, too.
Blogs & Tea print by Jennifer Ramos on

Etsy

-
$9.50
I know that
Tina
has a print which reads "
i love you blogs and coffee
" and I have been dreaming of the day I have a computer, desk space, and a designated "blogging scheduled" to order one myself to decorate my tiny office area. Isn't this just DARLING.
Your Personality makes me Smile and It should be Celebrated:



Me 2 a T plate by Em Tanner Designs
- $28
Two of my very best friends are pregnant, and I CAN'T HARDLY WAIT to spend some time with their little ones and start to discover their individual and unique personalities - because you bet your
bippy
they will be getting some cute personalize plates by Em Tanner Designs one day. How cute would a personalize character plate be for your favorite blogger, but instead of adding their name, adding their blog abbreviation.
KERF
,
HTP
,
CNC
, etc?
Personalized Note Cards by Every Day Grace on

Etsy
- $12
OK- I just need to spend a minute telling you about Andrea from Every Day Grace. SHE IS AMAZING. I have worked with Andrea on several occasions in the past- for gifts for some of the people I love the most in this world- and can I just tell you that her customer service and quality of product are unparalleled to anything else I've experienced in the last several years. This girl is talented and beyond kind. She will go above and beyond to make sure your order is EXACTLY what you want it to be - and she is simply the most darling, sweet southern girl you will ever meet. Her products are all adorable and she never fails to surprise me with what she's working on next.
GO CHECK OUT EVERY DAY GRACE.
You are the Very Definition of Foodie:

Foodie Fight from Spoon Sisters -
$18.95
Every time
I look at this game on the Spoon Sisters website (and let me tell you, I have looked at it many, many times) I can't seem to wonder if this should have been a
Foodbuzz
Festival Freebie. I'm just saying.
The Chef Set page Flags from Spoon Sisters
- $5.95
These cute little sticky notes are perfect for the person who has a billion different cook books, likes to plan elaborate meals for a large group, or is type A down to the bone desiring beautiful organization. Perfection. Perfection. Perfection. (and inexpensive!)
Tina
recently posted a giveaway from
Organica
Deluxe, and when I was searching through their website this Popcorn caught my eye immediately - salty, sweet and spicy? YES PLEASE!
You're One Part Scientist One Part Kitchen Dweller:


Built Oven Mitt and Pot Holders from

Wrapables
- $11.95-$14.95
Look Cool when the Oven is Hot. Had to go there.
Cuisipro

Ice Cream Scoop & Stack from

Wrapables
- $14.95
This is probably my favorite gadget I've ever come across while online shopping. The scoop & stack makes little cylinder's of ice cream. Little perfect cylinders. You can build TOWERS of ice cream cylinders. Who doesn't want to do that? (for some cool photos see the
Lovely Room's post
from July)
Self Leveling Measuring Spoons from Spoon Sisters
- $13.75
I'm quite certain that these measuring spoons could quickly become a bakers best friend. I'm determined to find the measuring cup version, as well. I am so sick of dirtying a butter knife every single night as I move forward in the
Cookie Challenge
.
Now that I've shared some of my favorite gifts for this season- tell me; what's on YOUR wish list?